McNeal not your average football player
<!-- begin story byLine --> By Jon Mahoney
ESPN RISE Magazine
(
Archive
)
<!-- end story byLine --> <!-- begin page tools --> Updated: May 20, 2009, 1:27 PM ET
<!-- end page tools --> <!-- end story header --> <!-- start story inner --> <!-- template inline -->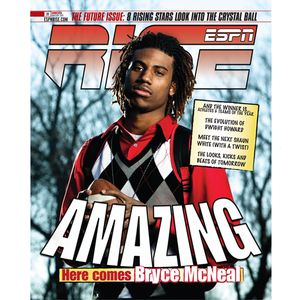 Courtsey of ESPN RISE Magazine
There's no word on whether Bryce McNeal will be taking his Spider-Man costume to Clemson.
At the Breck School's (Minneapolis) homecoming assembly this past fall, each couple selected to the court had to perform their own skit. McNeal and his date decided to portray Spider-Man and his love interest, Mary Jane Watson.
As Mary Jane was "attacked" by classmates depicting a gang of robbers, McNeal dashed in to save the day. Decked out in a Spider-Man costume complete with the mask, McNeal subdued the would-be attackers with cans of silly string.
It was fitting McNeal went with the Spider-Man act. Nicknamed Spidey due to his love for the comic book hero, the senior owns backpacks, T-shirts, hoodies and even a letter jacket paying homage to the webbed wonder.
"Spider-Man is definitely part of the family," jokes his mother, Charlitta Moss.
McNeal doesn't care if his outfits might be perceived as immature. So what if his Spider-Man garb doesn't exactly fit the attire you'd expect from the state's top football recruit. The way he sees it, why hide something he likes?
"He's not scared to show who he is," says Breck junior running back John Baker. "That's unique."
Unique is a fitting way to describe McNeal both on and off the field. When he wasn't rocking Spider-Man gear this year, he was busy drawing countless double-teams on the gridiron. And it's easy to see why.
Blessed with web-like hands, superhero speed and the ability to run precise routes, McNeal is a nightmare to cover one-on-one. Rated the nation's No. 9 wide receiver and No. 73 overall recruit in the ESPNU 150, the 6-foot-2, 175-pounder has signed with Clemson.
"I think he's the total package," says Clemson head coach Dabo Swinney. "He can do everything we'll want him to do at wide receiver at Clemson. He's got all the tools to be a very fine player."
Look up McNeal's highlights on any recruiting site and you'll see what Swinney is talking about. But one particular play that can't be found in those videos is a personal favorite of Breck football coach Chris Ohm.
Late in the first half of a game against St. Agnes (St. Paul, Minn.) during McNeal's sophomore year, Ohm instructed his star receiver to run a drag route. Split out wide, McNeal ran 5 yards forward before cutting across the field. Breck's quarterback lofted a pass in his direction and McNeal went up high to grab the ball…
Out of nowhere came St. Agnes linebacker Curtis Herzberg to dislodge the ball from McNeal's grasp and send him crumbling to the turf. McNeal staggered to the sideline with a cracked rib and Ohm thought for sure he'd be out for a couple games at least.
<!-- begin list box -->
<!-- end list box -->After icing his ribs during the half, McNeal put on a protective plastic plate for his injury and went out and scored two second-half touchdowns to lead the Mustangs to victory.
"To bounce back and not stay down tells me a little bit about him," says Ohm. "I've got to think he gained some credibility with his team after that, especially being a sophomore."
"I play football," adds McNeal. "I don't practice hard to sit on the bench. This is the prize. And it was senior night and I wanted to impress them. The main thing is I wanted to show [Herzberg] he didn't knock me out."
The following season, defenders found it hard to even catch McNeal. He finished the year with 31 receptions for 720 yards (23.2 yards per catch) and nine touchdowns to establish himself as an elite recruit. He followed his junior season by committing to Michigan a few months later.
With his college decision out of the way, McNeal focused on having an even better senior campaign. Along with working on his own, McNeal also practiced last summer with local legend and NFL superstar Larry Fitzgerald.
McNeal gleaned plenty from the workout with his favorite athlete.
"He's a workhorse," says McNeal. "You can see where it comes from. Standing next to him, he's so much bigger than me. It's amazing how he catches. It's so natural. His hands are like suction cups."
McNeal fully expected his enjoyable summer would lead to an even better fall. But with teams geared up to stop him, McNeal found little breathing room on the field. It got to the point where he could only run certain routes to get open. So while he finished the year with 41 receptions, he amassed only 344 yards (8.4 yards per catch) and scored just one touchdown.
As if dealing with pressure on the field wasn't enough, McNeal also had to once again go through the recruiting game. He de-committed from Michigan in October because he says he rushed the process, and he ended up taking all five of his recruiting visits before eventually committing to Clemson in January.
But McNeal didn't let his frustrations boil over on the field. With great power comes great responsibility, as Spider-Man says.
"One thing I can say about Bryce is that he has an immeasurable amount of integrity," says McNeal's cousin, Arthur Buckner. "He always wants to do right, even when people aren't watching."
That might entail helping out the freshmen on his team or enthusiastically participating in the school's buddy system. At Breck, seniors pair up with first-graders in the lower school and help them with anything from school projects to reading. For McNeal, it's a chance to get out of the spotlight, to be Peter Parker instead of Spider-Man for a little while.
"It's a time where I get to talk to someone who really doesn't know about my football stuff," he says.
Another place where his football accomplishments don't hold much weight is at home. While he's the No. 1 recruit in Minnesota on the field, McNeal still has to clean up after his dog, a yellow lab named Luda. He might be unique, but even Spidey has chores to do.

Jon Mahoney covers high school sports for ESPN RISE Magazine.